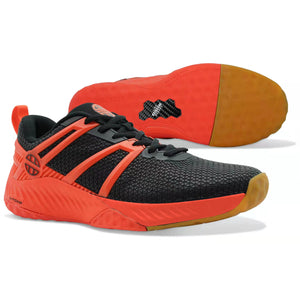 OPTIC SPORTS
UNSQUASHABLE TOUR-TEC PRO Squash Shoe - Black/Red
The UNSQUASHABLE TOUR-TEC PRO squash shoe is the world's most technically advanced specialist squash shoe.

The modern game requires players to be quick and agile, and our lightweight UNSQUASHABLE TOUR-TEC PRO squash shoe is perfectly suited to these demands, providing squash players of all standards with a solid, lightweight and stable shoe with outstanding comfort, complimented by classic and contemporary styling.

By working with the world's leading footwear designers and testing our shoes at every stage of their evolution with our growing number of professional players, we have sought to develop the world's best squash shoe to allow players of all standards to perform at their best without the worry of injury.

Our relentless commitment to making the world's most technically advanced specialist squash shoe can be seen in every detail of every pair of shoes that we make.

Every aspect of product design and manufacture is the result of an uncompromising search for the marginal gains that make our TOUR-TEC PRO shoe technically superior in all aspects of its design and performance.

From the outset, our aim has been to develop our UNSQUASHABLE TOUR-TEC PRO squash shoe as an extension of the players body, allowing them to adapt quickly, efficiently and safely to the unique movements within squash.

Rounded Heel Radius:
"To make it easier to land correctly on your heel and thereby roll smoothly in and out of the characteristic squash lunge, we have increased the radius of the heel area to provide a more efficient movement that minimises strain on your joints and Achilles"

When moving in and out of the characteristic squash lunge, your movement needs to as quick and fluid as possible. To achieve this, the heel construction and design needs to have a larger radius compared to a general multisport indoor shoe which typically have a small heel radius which means that you balance your heel on a very thin edge when moving in and out of a lunge, which creates an unstable base that can increase the risk of ankle and Achilles injuries as well as preventing a smooth and fluid movement.

In addition to the larger heel radius, the midsole has been extended to provide greater support and stability to allow a soft in-and-out lunge movement with enhanced control and agility.

AbraZone™ Hexagon Outsole Pattern:
The design of the outsole, the area of the shoe that is in contact with the floor, is critical to providing an assured grip that allows players to move with confidence, whether accelerating to the front of the court, stopping quickly or turning suddenly.

Regardless of the condition and quality of the court floor, the unique hexagonal pattern of our durable AbraZone™ outsole maximises grip through controlled suction of each hexagonal chamber, ensuring dust particles stay clear of the outsole surface where the grip properties are left in optimum condition.

Fast and agile movement is further enhanced by a natural gum rubber forefoot that perfectly complements the diagonal flex groves that allow players to retain their weight through the front of the foot to promote quicker and more explosive movement.

Carbon Torsion Unit:
A super strong, ultra-lightweight Carbon Torsion Unit arch support allows the forefoot and rearfoot to move independently to provide better surface adaptation and stability for smoother and more agile movement.

The carbon-fibre plate is situated in the arch area between the outsole and the midsole, and its shape is designed to optimise the torque properties in line with the foots biomechanics leaving you with a very well balanced shoe that provides excellent support as well delivering explosive forefoot propulsion and exceptional energy return for faster and more efficient movement.

Dynamic Wrap™:
Our Dynamic Wrap™ technology ensures a secure and comfortable fit during fast movements and enhances comfort by creating a secure personalised fit.

'U-FOAM' cushioning in the rear and forefoot absorbs impact shock with increased stability, allowing for more comfortable landings, pivots and stops.

Furthermore, high-grip ABRAZONE outsole delivers enhanced cushioning, durability and security of movement.

A DuraZone™ upper increases durability and reduces overall weight without compromising stability and comfort.

The ability to change direction quickly on court is provided by our ergo sculptured natural gum rubber at the forefoot allowing enhanced traction even on a slippy surface.

Excellent lateral stability is complimented by outstanding player comfort through improved rear foot and forefoot U-FOAM cushioning.

Our journey to develop the ultimate squash shoe started with the recruitment of the world's leading footwear designers from Sweden, which combined with extensive playtesting and input from our growing number of PSA World Tour players has enabled us to delivering against our promise to offer the most technically advanced specialist squash shoe that allows players of all standards and styles of play to perform to their best and avoid injury.
 CM
EU
MEN
UK
MEN
US
WOMEN
UK
WOMEN
US
23.00
37
3.5
4.5
4

6

23.50
37.5
4
5
4.5
6.5
24.00
38
4.5
5.5
5
7
24.50
39
5
6
5.5
7.5
25.00
39.5
5.5
6.5
6
8
25.25
40
6
7
6.5
8.5
25.50
40.5
6.5
7.5
7
9
26.00
41.5
7
8
7.5
9.5
26.50
42
7.5
8.5
8
10
27.00
42.5
8
9
8.5
10.5
27.50
43.5
8.5
9.5
9
11
28.00
44
9
10
9.5
11.5
28.25
44.5
9.5
10.5
10
12
28.50
45
10
11
-
-
29.00
46
10.5
11.5
-
-
29.50
46.5
11
12
-
-
30.50
48
12
13
-
-
31.00
49
13
14
-
-
---
More from this collection